Search Results:
Useful tips when working with Hand2Note

In this section, we will add various useful tips and tricks when working with Hand2Note.
1. How to add three ranges to Colors Ranges for PokerStars
By default, PokerStars is limited to the use of 3 color ranges in statistics. To get around these restrictions, you need to do the following:

Go to the 

HUD

 editor;
Select the required 

HUD

;
Select the cell for which you want to set Color Ranges;
Assign a default color for this stat, for example red;
Go to Color Ranges and add two more colors with the desired parameters:
2. How to make Hand2Note work with Asian poker rooms
First you need to remove all existing emulators;
Reboot your PC;
Launch Hand2Note;
Create a new emulator;
Go to Settings / Other settings / 

ADB

 Debug and select the Open connection option;
Install the poker app;
Restart the emulator and wait 1 minute;
Launch the poker app;
Wait for the 

HUD

to appear.

To run additional emulators, repeat all steps except steps 1 and 3
3. How to disable the Aurora engine for PokerStars
By deactivating Aurora, you'll be using our old graphics engine which we no longer support. You take this action at your own risk. We will not fix bugs or address issues experienced while using the old graphics engine.
1. From the lobby, select Help, then Open My Settings Folder. You'll see the folder open.
2. Close our software (keeping the settings folder open).
1. In the settings folder, find the user or user.ini file, right-click on it and select Edit to open the file with notepad.
2. Within the file, find the section that starts with [PipeOption] and add the following line LegacyPokerTable=1
3. Save the changes you made to the settings file and restart your computer.
4. Reopen our software, then log back in.
4. During the game, the window with the Extended popup closes the overview
There are no special settings in Hand2Note, you can only increase the response time for this popup:
---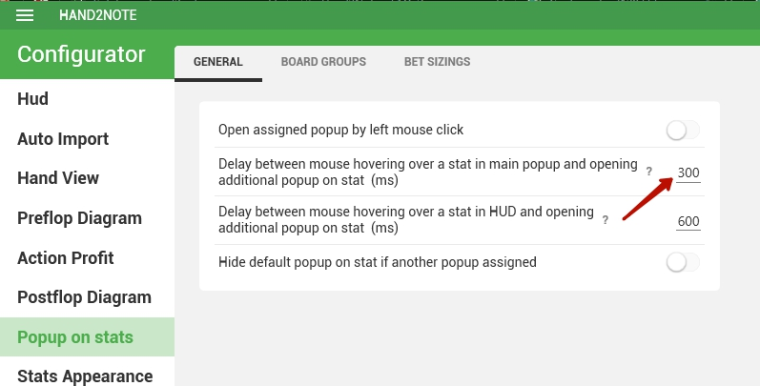 ---
Then, when you hover the mouse over the stat, this window will appear with a delay.
5. If the replayer is displayed with a black screen
Solution options:

Go along the path C:\Program Files\Hand2Note\Config and replace the Replayer folder
You can download a new clean folder using the link: Replayer
The second option is to simply reinstall the program: 22nd item of the 

FAQ
6. How to set up hotkeys in Hand2Note
Make sure that during the game you do not open programs that also use hotkeys, or make sure that there are no conflicts between hotkeys in other programs.
First option
Open the 

HUD

 editor;
Select/create the desired 

HUD

;
Highlight the required positions / cells with stats;
In the properties on the right, assign hotkeys and specify display rules;
Save all changes!
---
Second option
Open the 

HUD

 editor;
Select/create the desired 

HUD

;
Go to Configuration / Game types;
Press on + 

HOT

 

KEY

 

HUD

;
Select 

HUD

;
Assign a hotkey;
Select the option Switch mode;
Save all changes!
After configuring the hotkeys, run several played hands in the replayer and make sure everything works correctly.
Add all the programs you use to the antivirus/firewall exceptions and run as administrator!
7. Examples of settings in Game types
8. How to add Hand2Note and poker room to antivirus exceptions
9. When do you need to rebuild statistics
10. How much RAM is required for Hand2Note
We recommend using from 8GB to 32GB, depending on the size of the database used and the number of stats in the HUD / pop-up.
HUD Packages for Hand2Note

---
GT-HUD is a professional collection of HUDs and popups, created specifically for poker players based on their recommendations and wishes.
It contains a rich collection of dynamic and positional HUDs for different playing disciplines, such as CASH, MTT, SNG, Spin&Go, Head's-up, Holdem 6 +, Shaolin HUD for Asia/China, WinSize Pack, PokerStars HUD. Thanks to the convenient, thought-out interface you will find yourself in more comfortable conditions at the gaming table. GT-HUD will perfectly suit beginners and high-limit professionals.
You will certainly appreciate the convenience and simplicity of using our collection. GT-HUD has proved to be a reliable and convenient tool that every professional poker player needs.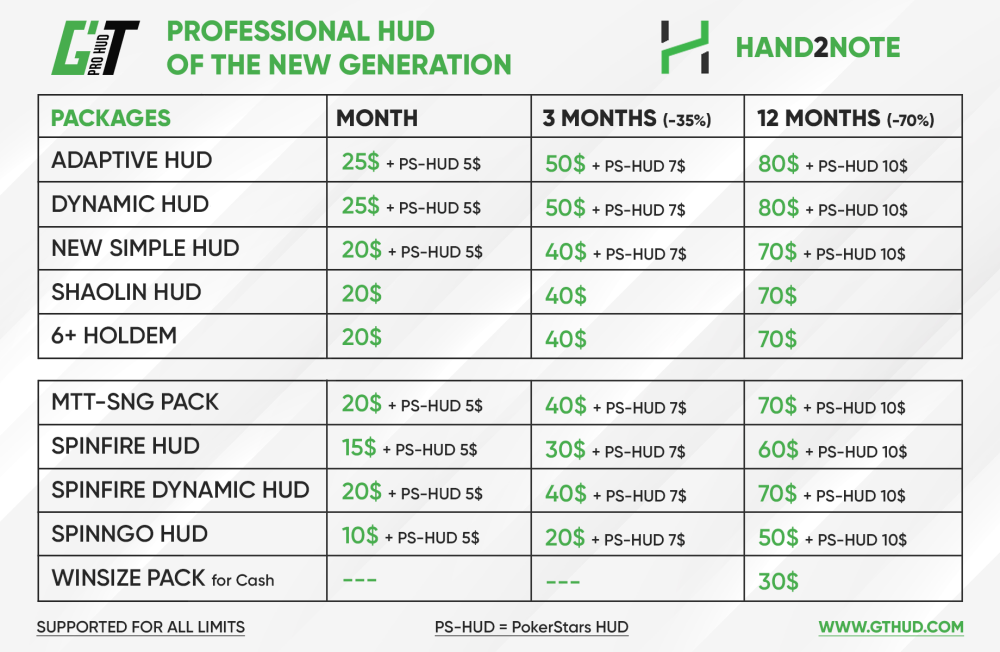 ——————————————————————————————————————————————-
Use the bonus code to purchase the GT-
HUD

 collection:

GT-HUD2023-25_EN – 25% discount is valid only when choosing the Lifetime tab

GT-HUD2023-10_EN – 10% discount is valid only when choosing the 12 month tab

You can choose, review and pay on our website 

——————————————————————————————————————————————-
Bonus code for buying GT-
HUD

 packages:

GT-HUD2023-25_EN – 25% discount is valid only when choosing the Lifetime tab

GT-HUD2023-10_EN – 10% discount is valid only when choosing the 12 month tab

You can choose, review and pay on our website 

——————————————————————————————————————————————-
Bonus code for Hand2Note:
H2N10IQ – 10% discount is valid only on the first purchase.
You can pay on the program website: 
——————————————————————————————————————————————-
The GT-HUD team has been developing professional HUDs/popups/stats for over 9 years. You are going to receive poker applications from the best specialists in Hand2Note. We cooperate with professional players, coaches, developers, and designers.
---
Our company is focused on creating the most advanced and effective tools for improving your game. Working with us, you receive the tools tested by hundreds of professional players.
---
We choose Hand2Note because it's the top program for gathering statistics and customizing HUDs / popups at the moment. You will find a large number of tools in Hand2Note for increasing your winrate and extended capabilities for analyzing your game and the game of your opponents.
If for some reason you could not find a 
HUD

 / pop-ups from our ready-made packages, then you have the opportunity to create your own private 

HUD

 to order.
---
Conditions for creating a Private 
HUD

:

1. Choose a ready-made package that is close to your gaming discipline:

2. Pay for the Lifetime license for this package.

If you have doubts about choosing a package or there are no suitable ones, then you can first consult with our developer, who will help in choosing or offer other solutions.

3. Provide a detailed outline for the HUD. This can be a text description, screenshots from other HM2/PT4 programs, or some other options that are convenient for you to send.

The more detailed the plan is, the faster we will come to the agreement and creation of the HUD.

4. Approximate prices for creating a private HUD:
Minor changes from $15 to $30
Average changes from $50 to $100
Big changes from $150 to $300
Special changes that require the creation of a 

HUD

 practical from scratch from $500 to $2500
5. After receiving payment and all approvals, we will immediately start creating a Private HUD. The timing of implementation depends on the scope of work.
To reduce the cost of work, you can invite a friend or gather a group of users with whom you have common interests. For example, for 2 users, the price of all work will be divided for two, etc.
---